Neutral trehalase Nth1
Neutral trehalase 1 (Nth1) catalyses the hydrolysis of trehalose to glucose. Trehalose is found in many organisms ranging from bacteria to higher plants, and in yeast it functions as a major storage carbohydrate, carbon source and a stress protectant. The activity of yeast Nth1 is triggered by the protein 14-3-3, an interaction that is phosphorylation dependent. Main goal of this project is to elucidate the molecular mechanism of the 14-3-3-dependent activation of yeast Nth1. This project was funded by Czech Science Foundation (Project P207/11/0455).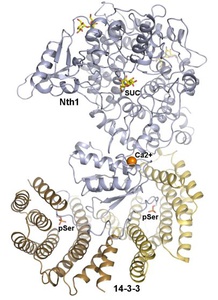 Structural analysis revealed that the binding of phosphorylated Nth1 by 14-3-3 triggers Nth1's activity by enabling the proper 3D configuration of Nth1's catalytic and calcium-binding domains relative to each other, thus stabilizing the flexible part of the active site required for catalysis (Alblova et al. (2017) PNAS USA).
Results were published in: Veisova et al. (2012) Biochem. J.; Macakova et al. (2013) Biochim. Biophys. Acta; Kopecka et al. (2014) J. Biol. Chem.; Kopecka et al. (2017) PNAS USA.