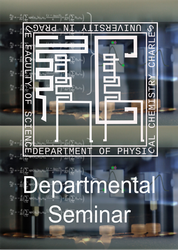 Program of the seminar
Roman Staňo (2. Mgr).
Computer modelling of interpolyelectrolyte complexes.

Lukáš Fojtík (2. Mgr).
The use of protein radical footprinting by Togni reagents in structural biology.

Tadeáš Kalvoda (2. Mgr).
Exploration of conformational space of short peptide chains by quantum mechanics methods.

Jana Hrnčířová (2. Mgr).
Optimization of Ag nanoparticle assemblies for detection of bilirubin and for monitoring of its photooxidation by SERS.

Eva Hlavatovičová (2. Mgr).
Stimuli-responsive nanoparticles with boronic ester linkages as a potential carrier for drug delivery.

Stefan Dukic (2. PhD).
Human Purine Nucleoside Phosphorylase- from preparation to crystal structure.
more